Handmade Pool Tables and Custom Game Room Furniture Handcrafted, Delivered
&

Perfectly Set Up
"I wonder why a man should prefer a good billiard-table to a poor one…"
– Mark Twain
Despite years of play for fun and profit, master artisan Howard Hatch estimates his lifetime winnings at the pool table to be no more than $200. Billiards have yielded him a profit of a different sort – the discovery of a life's work.
Our answer to Twain would be – it is the art of the thing that matters most. To order luxury pool tables or billiard furnishings from our line or commission an original design from Hatch Studio, contact us.
About Our Handmade Pool Tables, Billiards Tables
&

Custom Game Room Furniture
At Hatch Billiards we build pool tables and furniture with the attention to detail of a fine craftsman to his art. Howard Hatch came to designing pool tables from a variety of early experiences. In his twenties, Howard learned the science of the game of pool in the "pool hall academies" where he took on all comers. Later he took his formal training in furniture design and woodworking technology at The rochester Institute of Technology. This led to an interest and self education in forestry and wood science. Howard was soon designing furniture for clients across the US and in far flung places like Paris and St. Barts in the Caribbean.
In the 90's came his first commission to build a custom pool table immediately realized this as his passion. By sheer coincidence and good luck Howard lived near Bill Frazier, a retired billiards technician and a consummate player. Bill learned his craft in the Air Force where he worked on approximately 4000 pool tables on bases across the world. Learning from this master technician filled in the last piece of the puzzle in realizing his goal of building pool tables endowed with the beauty of a craftsman's eye, materials selected by a lover of trees and wood, and playability to meet any demanding technician's standards.
Howard now builds his billiards tables and furniture in a 19th century mill in Brunswick, Maine for clients across the US. Hatch Billiards welcomes clients looking for the finest handmade pool tables and furnishings.
Purchasing Information:
The type of work I sell can be divided into three categories: some of my more popular pieces have become standards which I have sold as pictured here for a number of years, another third are established designs which I make changes to either in form or wood choice, and the final third are new designs for the client looking for something personalized to his needs. The price range for my work runs from $1000 to $20,000. I supply scale drawings and models when a new work is commissioned in order to fully visualize the work for myself and the client.
A deposit of 50% confirms your order and locks in your delivery time. The balance is due upon completion.
Delivery Information:
My delivery time runs from two to six months depending on the size of project. I prefer to deliver the work myself, but for distant deliveries I use a reliable blanket-wrap trucking service or for smaller pieces boxing and shipping.
POOL TABLES – These behemoths are easier to deliver than you might think. The wooden parts can be easily shipped because they are all made to knock down into manageable pieces. The slate is delivered by a local billiards supply company and installed by a technician.
All furniture shipped at purchaser's risk. We make sure all furniture is packed according to shipper's specifications before we release it.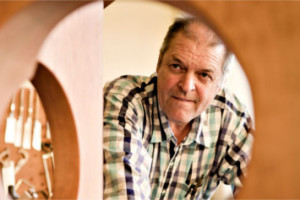 Howard Hatch
Owner & Designer
Howard's workshop employs traditional techniques and embraces today's technology. Visitors to Hatch Studio's idyllic 19th century mill location on the Androscoggin River in Brunswick, Maine, are as likely to find Howard hand cutting Mother of Pearl inlay with a jeweler's saw as tracing off intricate blueprints for the laser. The raw materials - choice hardwoods, slates, fabrics and inlays - are meticulously sourced and exquisitely crafted to showcase their best traits. (Read more about Howard's palette here.) Clients may choose their billiards table from the signature Hatch Studio line, or bring a wish list for a custom piece. Hatch Studio selects the very best materials and designs to one end - distinctive, luxury handmade pool tables that our customers will treasure for generations.
Hatch Billiards
I love showing everyone our pool table; especially since (being an engineer) the underside structure looks as good as the rest of it. We have several friends who have well-known commercially made pool tables and our table plays as well or better than any of their tables.
The choice of woods and unique design look wonderful in our home and qualify the table as a master work of art.
We knew of Howard's work from good friends who had commissioned a number of pieces from him, including a custom designed pool table. We were interested in a unique family gift for Christmas and contacted Howard to ask whether he could build us a pool table. From our initial contact through to the delivery and installation of our new table, Howard provided friendly, responsive and first class service. We couldn't be happier with the result – which is not only fun – but is a work of art too. In addition to the pool table Howard has designed, built and installed a custom cue rack, scoreboard and ball rack – all unique one-off pieces that complement the table and add wonderfully to the finished result.